Page updated: 28 September 2020
On 1st Tuesday of the month at 10.30am
There is a Church Service every month in the Chapel upstairs.
The services are led by Rev. Hannah Lewis with assistance from Jean Lee.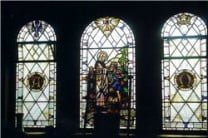 Services are sign-interpreted.
Everyone is encouraged to come along to these services as the Spiritual Leaders travel from outside Southport to attend – please help make their journey worthwhile.
Occasionally special services are organised at other times in the year, and information about these will be published here when appropriate.
DATE OF NEXT SERVICE TBA
Please note the Centre is
closed until further notice