Our 90th Anniversary Celebration Dinner on Friday 20 November 2015 was a great success.
This special event took place at the Old Links Golf Club in Southport and over 40 people came to join in the celebrations. There was a welcome drink on arrival. The meal was delicious and professionally served by the Old Links staff, which included soup or prawn cocktail to start with, then lamb or salmon and for dessert, either apple pie or pavlova.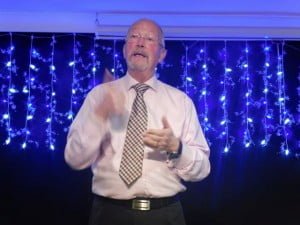 Chairman Peter Mowat made a speech reflecting on how the Centre for the Deaf has progressed during its 90 years and noting it will continue to change to meet demand and needs. He gave thanks to his Committee, especially to Tony Wright and to Dorothy Caven for organising this event.
Bob Watson, the oldest member at 92, cut the cake which Carol Holden got for us. Thanks Carol! We had a group photo taken afterwards.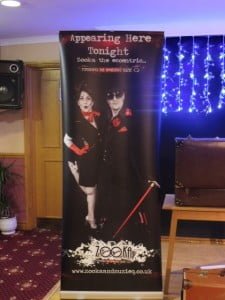 We were entertained with magic by Zooka and SuzieQ. Both Peter and Neil Caven got involved too! Zooka was the warm-up act for Ken Dodd's 2015 theatre tour. See their website here: zookaandsuzieq.co.uk
There was a raffle and we are pleased to say we managed to raise £171! There is an extra £10 to go into the funds as no-one won this mystery prize. Karen Howard and Andrea Birtles had already donated another £10 when tickets were being sold so thank you to them for this.
Once again, thanks must go to Dorothy for organising and selling the tickets, and generally making sure things run smoothly at the Old Links. A big THANK YOU to everyone who supported this event and to all who continue to support the Centre.